No I have not become a Dodgers fan. The new darts have already given me a few B Grade gems. Here is my first Ton-40 with them. I have not Ton-80'd yet but that is rare for me anyway, and I certainly get excited by anything over 100.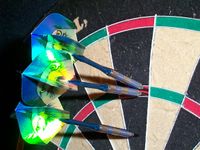 And here is my first Almost Deadeye. This is the second five count I have thrown in the bulls that I remember, and it is the closest I have ever come to a deadeye (except another five count several months ago). As you can see for the two photos in this post and the photos in the previous post I have been playing around with shaft and flight combos. The blue aluminum shafts with the shiny eagle flights is a nice combo. It has a bright esthetic appeal and it flies well. I have tried the short nylon shafts on these darts with standard flights but that is not a good combo (I think the barrels are too short). Someone needs to make a better in between length nylon shaft.
As always, click the image for a larger picture.